WHAT AISHA BUHARI TOLD BBC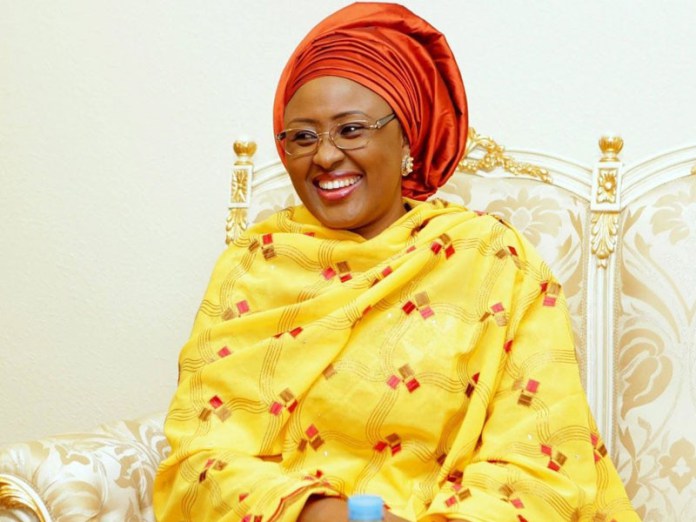 Mrs Aisha Buhari, wife of Nigerian President Muhammadu Buhari has been in the eyes of the storm since her interview with the British Broadcasting Corporation, BBC released couple of days ago.
During the interview conducted in Hausa Language, Mrs. Buhari spoke about some appointments made by her husband, warned that she may not support her husband re-election bid in 2019 and need to shake up his cabinet.
We published the full transcript:
BBC: Almost two years after President Muhammadu Buhari was elected into this government; it appears as if things are not going well, the people are complaining; where do you think the problem is?
Aisha Buhari: From my own observation, being a housewife, I think security wise; we have relatively achieved more than 100 percent. Being someone that comes from the North east, I knew when almost nobody sleeps in his or her house. But now, people sleep with their two eyes closed.
The hardship that people are going through now was anticipated, knowing what we inherited. It is not going to be a smooth journey; but I think so far so good. The only thing that almost everybody is not happy with, including myself, is on those that really suffered for this journey and now people who do not even have registration cards are guiding us, which is so unfair and unfortunate for the journey that we started more than 13 years ago.
BBC: But some will say whenever you are elected into government, you have to bring in professionals, experts who know how to do the job and not just politicians?
Aisha Buhari: Yeah; but if you look at the journey that we had; after the merger, we didn't call it merger or APC again, we called it a movement because it was a collective effort of millions of people, only for us to find out that the government is being operated by a few people.  Very few, in the sense that we have may be four to six people that really started the journey with us in the system. Unfortunately, the people that are occupying the seats, I don't think they have any expertise that our supporters in APC do not have. We have supporters all over the world. Those who really supported APC and felt that enough is enough, let us have sanity in the society; it was a real collective effort. Nobody will say that 'it was as a result of my hard work that I brought this government'; it was a real team work and we wish that the team work should continue. Everybody knows what my husband wants to achieve in four years. But having new set of people on board that were not part of us, they don't really know what we promised Nigerians and that is the thing we are facing now.
BBC: Who are these 4 to 5 people you are talking about?
Aisha Buhari: People like Ogbonnaya Onu, Amaechi, Fashola, after the merger it was a huge group that came together and started the struggle again.  It is sad that very few are in the system now. Though I heard that they are about to announce like 3000 names as Board members; we feel that those that have started the struggle should not be limited to Board members; they should be in positions like heading agencies that will impact positively on the lives of Nigerians. Knowing what we have campaigned for, only for us to bring people that are busy telling people that they are not politicians but they are occupying seats that were brought in by politicians. This is a huge disrespect for politicians. Knowing that we are just starting, we have not got to 2017, talk less of 2018 and then 2019 for us to go back to the polls; you understand what I mean?
BBC: Who are these very few people as you said surrounding President Muhammadu Buhari, and have you spoken to him about this?
Aisha Buhari: Yeah. Not only me in person, because after receiving complaints upon complaints, I decided to tell him. But all the same, a lot of people have been coming on their own and also collectively to tell him that things are not going the way it should when it comes to putting people in certain positions. Because most of those that are occupying positions in agencies, nobody knows them and they themselves don't know our party manifesto; what we campaigned for; they were not part of us completely. People were sitting down in their houses, folding their arms only for them to be called to come and head an agency or a ministerial position. They don't have a mission or vision of our APC, you understand what I mean?
BBC: Whose fault is this?
Aisha Buhari: It's the fault of 15.429 million people because they are the ones that brought in the government. It's their fault!
BBC: But theirs is just to elect APC and President Muhammadu Buhari and he is the one that is supposed to be in charge; is he not?
Aisha Buhari: Because they elected him; that's why he is here. If they can stand firm and strengthen the party and tell everybody that 'No! We can't take this; we can't take you because you are not a card carrying member, you don't know what we want to achieve within so and so time'. Fifteen point something million people is a huge number that can control a country.
BBC: Somebody listening to this will feel like President Muhammadu Buhari is not in charge of this government?
Aisha Buhari: It is left for the people to decide whether he is in charge or he is not in charge. People actually accepted his ideology and decided to follow him for the past 13 years. That is what brought him to this current position.
BBC: As his wife, what will be your advice to him going forward?
Aisha Buhari: My advice is to the whole people that voted for him. They should strengthen the party and whoever is not part of the party should not have control over fifteen point something million people. We are in a democracy and not military era, so we have to play it well and leave a legacy.
BBC: What you are saying is that if things continue like this, you will not leave any legacy?
Aisha Buhari: As a person, I have my right to say how I feel about something. If it continues like this, me I am not going to be part of any movement again, because I need to work with the people that we started the journey with collectively so that we can achieve what we want to achieve, so that he would leave a legacy.
BBC: Have you told your husband all this?
Aisha Buhari: Yeah! He knows! At my own level, I have done it personally. I have also listened to people's complaints and I tried to tell him what they are coming to tell me so that if there is anything to be corrected; it can be corrected.