The Police High Command on Monday in Abuja paraded 24 suspected criminals including four men who specialised in using fake bank alerts to pay for goods and also for the services of commercial sex workers.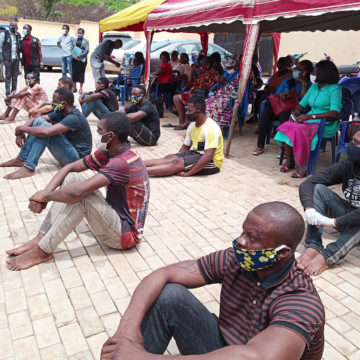 The Force Public Relations Officer (FPRO), Frank Mba, a Deputy Commissioner of Police, also warned members of the public against false bank alerts being generated and forwarded to defraud them of their money.
According to him, the first batch of those paraded was made up of a four-man gang who specialised in generating and sending of fake and false bank alerts to unsuspecting members of the public.
He said the syndicate before the arrest was using such fake alerts to pay for goods and services including payment for services of commercial sex workers
The FPRO, however, appealed to the members of the public to be careful of people coming to their business outfits to buy goods and wanting to do online payments
The leader of the syndicate, who spoke with newsmen about the activities of his group before the arrest, confirmed that such alerts normally lasted for about few minutes before they would disappear.
Mba also paraded three brothers described as serial fraudsters who reportedly created a fake Frank Mba Foundation in the wake of the COVID-19 pandemic to solicit funds in a fake Facebook created to deceive the unsuspecting highly-placed members of the public through a bank account opened in a third-generation bank
According to him, "the brothers are serial fraudsters, they have been in and out of courts, they have been in and of police stations and they have also been in and out of correctional centres."
The FPRO also paraded another batch of 14 suspects who specialised in online dating otherwise known as romance scam where by they would present themselves as American citizens, British citizens and other nationals working in multinational companies.
Also paraded was a 58-year-old man who was using the name of the widow of the late Chief of Staff to the President, Mallam Abba Kyari, to solicit for funds from members of the public in pretext that he wanted to organise a befitting prayer for the deceased.
The exhibits recovered from the suspects included 16 laptops, 37 mobile phones of different makes, 11 SIM cards of different networks, dried weeds, fake United States dollars and other foreign currencies.