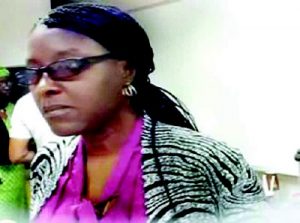 OLAMIDE OLAOYE: JUDGE THAT CALLED FOR AREGBESOLA'S IMPEACHMENT SACKED!
*Begs Aregbesola/deputy for forgiveness
*Now Lectures In Lead City University Ibadan
Do you remember her? The female judge in Osun state who wrote a petition to Osun State House Of Assembly on the need for Governor Rauf Aregbesola and his deputy, Chief Mrs Titi Laoye-Tomori to be impeached based on abuse of office.
You will equally remember how she was also enmeshed in a husband snaching scandal the moment the friction between her and Aregbesola started. A certain woman had come out to accuse the respected judge that she unlawfully took over her husband.
For people who have been asking about her whereabout, this report will answer the question…
A former judge of the Osun State High Court, who was recently retired by the National Judicial Council, Justice Olamide Oloyede, has said she has no regret writing the petition against Governor Rauf Aregbesola and his deputy, Mrs. Titi Laoye-Tomori.
The retired judge said this while featuring on a radio programme, Frank Talk aired by Rave Fm.
Oloyede, however, apologised to the governor and the deputy for using certain words which she said she ought not to have used in the petition but stressed that she was convinced beyond doubt that she did no wrong by writing the petition where she asked the members of the House of Assembly to impeach Aregbesola and Laoye-Tomori.
She explained that she had no animosity against the governor, adding that she did not violate any section of the constitution for barring her mind on the issues affecting the people of the state.
Oloyede said, "I have no regrets writing that petition, but I think in retrospect I have come to realise that perhaps, I did employ some words or language  in respect of Mr. Governor  and his deputy, which I ought not to have used and so, today I am tendering an unreserved apology, public apology for the choice of certain words which I would not repeat.
"However, as far as the substance of that petition is concerned, I remain resolute and I am convinced that my actions were done in fidelity to my office and to the constitution of the Federal Republic of Nigeria, which I sworn to uphold and out of love for my country.
"As we say in law, the fact speaks for itself and as I said earlier, the petition speaks for itself. I would rather not go over the content of the petition, which I believe is in public's possession. My reason for writing is clearly stated there. I am a person known for my own conviction and the only regret I have, I have said it, every other thing I said I meant it word for word."
Oloyede stated that some believed that the judiciary should only be seen and not heard even if the country was collapsing but the sanctioned judge said she did not belong to this class of people.
Oloyode, who now lectures at the Lead City University, Ibadan, lamented that judicial officers were not equipped with the tools to discharge their duties, yet nobody or organisation was fighting for their welfare.
Speaking on immunity clause, she said there was no way the war against corruption would be won if the executive arm of government was the only one that enjoyed immunity.