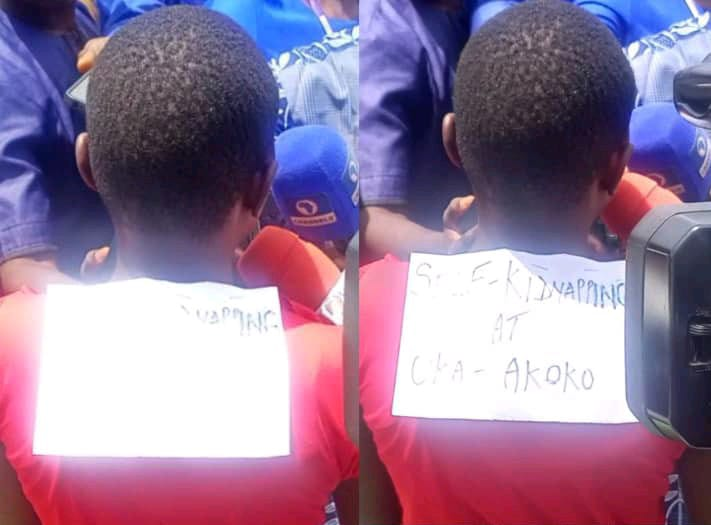 Two female minors who stage-managed their abduction in Oka-Akoko, Akoko South West council area of Ondo state, have confessed to maltreatment by their mother.
The girls, aged 15 and 13 years, who are in Junior Secondary School 3 and Senior Secondary School 1, were amongst 28 suspected criminals paraded by the state security outfit codenamed Amotekun, in Akure, the state capital.
Vanguard gathered that the girls after the act, demanded N100,000 as ransom from their parents
According to the two girls," We told our parents that we've been kidnapped to punish our mother who used to maltreat us and has made life miserable for the two of us."
One of the girls, in an interview, said "I was the one who initiated the plan because I wanted to punish my mother, who has been behaving as if she is not my mother. I never wanted to use the money for anything but just to punish her."
18 suspects were arrested for kidnapping and 10 others for illegal possession of firearms, cult activity, and housebreaking amongst other offences..
While parading the suspects, the state Commander of Amotekun, Chief Adetunji Adeleye, said the two minors from Oka-Akoko, kidnapped themselves and demanded N100,000 ransom from their parents and the traditional ruler of the community.
Adeleye added that "They were later arrested in a hotel after staying there for three days."
"Their parent raised the alarm that their children were kidnapped and reported at the Amotekun office, and we swung into action but when they called for ransom we tracked the phone number they used and we were able to arrest them, but the young girls attributed their action to the ill-treatment by their mother."
"We appreciate the Department of State Service (DSS) for assisting us in apprehending them."
"When they were negotiating, they even threatened the traditional ruler that if the ransom was not paid within two hours, they are going to kill the victims without knowing that they are the criminals perpetrating the act."
On other suspects arrested, the Commander said that a kidnap syndicate held two ladies hostage, tortured them, raped them and forcefully took their ATM and withdrew monies from their bank account.
Also, Adeleye, added that a 53-year-old woman, identified as Ajara Salamat was arrested for preparing food for kidnap victims and providing daily needs for the kidnappers in the forest and helping them to charge their phones.
"We also, have one Coker Noah, who held two ladies hostage and employed two other men to torture and rape them for weeks before one of the victims had access to the phone and called us and we were able to apprehend them."
"We have a family where the mother specializes in buying daily needs including food for kidnap suspects and victims in Owo and Ifon."
"We equally have a group that we apprehended along kidnap areas and items found on them include several ATMs to which they could not explain how they came about it but we suspect that the ATMs belong to the suspects they held hostage and a lot of other things which they could not justify how it came to them."
Adeleye while giving the breakdown of those arrested said that "a total of 28 suspects we are parading today shows that we have more kidnap suspects than any other criminal activities. This is in continuation of our efforts at ensuring that kidnapping in Ondo State becomes a thing of the past."
"We equally have kidnap suspects of some very high profile individuals in the society that we are still working on."
"We equally want to advise the public to be wary of the new trend of criminal activities now. Most times, the victim will board a motorcycle or taxi and you will see them blowing balloons."
"These balloons are already laced with poisonous gas that makes their victims to dose off and become unconscious."
"After this, they take the victim to wherever they want and do whatever they want with them and some of the victims will recall nothing after they recover, most times they lose their senses for two-three days."
Adeleye added that "They won't remember what happened not to talk of identifying the criminals. So, we want to advise the general public to be careful when they board Okada or taxi."